JULIA ATHERLEY, Director, is a Civil Engineer and former Canadian Armed Forces officer who is employed with Defence Construction Canada.  She has two daughters and a son Keifer who has autism.  Since Keifer was diagnosed at the age of three, Julia has been dedicated to administering programs so he may continue to learn and lead a satisfying life.  Julia was introduced to NeLL as a perfect place for Keifer to continue that journey.  Julia, and her husband Dave, live in Petworth.
CHRISTINE BELL, Treasurer, completed her Diploma in Business Administration – Human Resources in 2012 after a 30+ year career with Corrections Canada. Since graduating, she continues to work in multiple roles as an HR and Administrative Consultant in government, Not-for-Profit and the Private Sector. Christine contributes to New Leaf Link as a volunteer, as a program facilitator and in numerous administrative roles from event planning, writing grant applications and Facebook administration.
JULIE HUNT, has a son with developmental disabilities who has been with NeLL since its inception. Julie studied accounting at St. Lawrence College and worked in the bookkeeping field for many years in Kingston. Her family has lived in South Frontenac for many years, so she is happy to be giving back to this community by volunteering at the NeLL program and with the Board of Directors. Julie's interests include traveling, cottaging with her husband and children, boating, fishing, and cooking for family gatherings. She has recently started playing a sport called Ice Stock which can be played by people of all ages.
CAROL MARTIN S-LP, Director and President, is a Speech-Language Pathologist at the Limestone District School Board. Carol met Karin Steiner, founder of NeLL, and her son Nicolas, while working for the Developmental Consultation Program at Queen's University. At the time, Carol was teaching and working with adults with developmental disabilities in Southeastern Ontario. Carol has been a Director since the inception of NeLL. Carol and her husband Bill live in Kingston with their 2 daughters. As a family, they enjoy skiing, boating, skating and spending time with friends and family.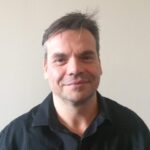 BRIAN HAYES, Director, is a Privacy/Information Officer at Queensway Carleton Hospital.  He was born and raised in Cornwall, Ontario and currently resides in Ottawa.  Brian strongly believes in community-based programs to address health, educational, social needs of its members.  He has experience in medical, legal and educational programs/projects to address health, education and legal disparities.
GARY RASBERRY. Philosopher. Poet. Imagination Consultant. Musician. Artist. Educator. With a PhD in education and over 25 years experience as an artist and an educator, Gary has held artist-in-residencies internationally in California, Barcelona, and Amsterdam; nationally in British Columbia, Alberta, Nova Scotia and Ontario; and locally in his hometown of Kingston, Ontario, Canada. This JUNO-nominated children's artist offers Song, Story & Sound Workshops and concert performances in schools everywhere. Gary's album, "What's the Big Idea?!?" (2013) was nominated for a JUNO award. His most recent children's recording is called "The Very Next Day."
MACKENZIE LEE IRWIN, Secretary, was first introduced to New Leaf Link (NeLL) when seeking a local non-profit organization to host fundraising events for. After co-hosting three successful events, MacKenzie was invited to be a part of the NeLL fundraising committee, followed by an invitation to join the Board of Directors. MacKenzie has been a dedicated employee of the federal government for over twenty years and is currently involved in the Employee Assistance Program, Women's Advisory Council, and the Culture and Change Committee. MacKenzie has an educational background in business, counselling, and law. MacKenzie is passionate about life-long learning, promoting positive mental health, and helping others. In her spare time, MacKenzie enjoys photography, practicing self-care, and thinking of new ways to fundraise for New Leaf Link.
DIANE BLACK is a Kingston resident and full-time artist and arts educator. She is not afraid of getting her hands (or her apron) dirty and believes that clay is magical, paint is awesome and pencils rock! Diane has three grown children and a dog named Doodle.